The Salkantay Trek
to Machu Picchu (Peru)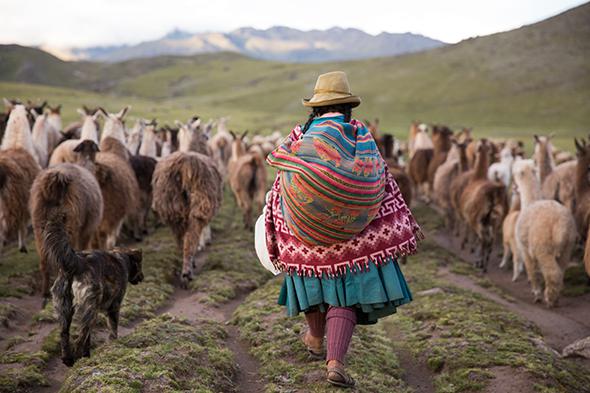 "If you want to see the ruins, hike the Inca Trail. But ... if you want to see unbelievable, mind-blowing scenery, the Salkantay Trek is the way to go."
We start in the magnificent capital of Cusco, the gateway to the Sacred Valley. We explore, we acclimatize and then we hike the road less travelled into the heart of the Inca Empire. Aided by porters and horses, we'll hike for 7 days through the stunning Andean mountains - through lush valleys, high peaks, magnificent rivers, orchid rich cloud forests, traditional Peruvian farms, and ancient Inca Ruins.
The mystical ancient city of Machu Picchu awaits us at the end ... the holy grail for any visitor to South America.
Itinerary
Monday September 21 – Saturday October 3, 2020
Monday September 21
Flight departs Toronto at 6pm to Cusco via Lima.
Tuesday September 22
Flight arrives in Cusco at 6:10am via Lima
Welcome to Peru! On arrival at the Cusco airport, we'll drive to the Sacred Valley, to the country town of Urubamba. Located at a significantly lower altitude than Cusco, Urubamba is an idyllic place to acclimatize. We'll have a full day of exploring including the Maras (home to the salt evaporation ponds), Moray, a visually stunning archaeological ruin, and the quaint village of Ollantaytambo - the best surviving example of Inca city planning.
Wednesday, September 23
Tour of the Sacred Valley - 2,900m/9,514ft
One of the best ways to acclimate is on a tour of the Sacred Valley. About 15km north of Cusco, the Sacred Valley is a region in Peru's Andean highlands that together with Cusco and Machu Picchu forms the heart of the Inca Empire. We'll be picked up at 8:30am for a private, full day tour exploring some of the highlights including the charming colonial town of Pisac and the spectacular Pisac Inca fortress. Take a step back in time and enjoy.
Thursday, September 24
Sacsayhuaman/Cusco - 3,400m/11,154ft
We'll spend the morning making our way back to Cusco visiting the imposing Inca ruins at Sacsayhuaman on our way. One of the most impressive displays of Incan ingenuity, this three-tiered fortress is a marvel of engineering with some of the biggest blocks ever found fitted together so tightly that no mortar was even necessary.
We'll end the day in Cusco, the former capital of the sprawling Inca empire. Our hotel, a historic colonial home, is situated in the heart of the city making it a great vantage point from which to explore by foot.
Friday September 25 – Day 1 of Salkantay Trek
11km
Overnight: Campsite, Soyapamapa - 3,800m/12,467ft
Our trekking guide, chef, and porters will pick us up from the hotel at 4:30am to drive 2.5 hours to the trail head (Marccoccasa, 3,300m). We begin our hike with a gradual uphill climb of moderate difficulty, all the while experiencing the amazing views of the Andes and the lush green valleys. After lunch, the views and the temperature will change quite drastically as we get closer to the foot of the Humantay snow capped mountain. Upon arrival at our campsite at Soyapamapa, we'll be welcomed by our team and provided warm drinks and dinner.
Saturday September 26 – Day 2 of Salkantay Trek
13km
Overnight: Campsite, Ichupata - 4,200m/13,779ft
Today's hike will introduce us to the Alpine microclimate and amazing views of the Glacier peaks, considered by the Andean people to be the "Father" of the Mountains. Our morning hike will include a 2 hour climb to the most beautiful blue lake located at the base of the Humantay glacier mountain where it is believed the Inkas used to hold ceremonies for the God of Water.
We'll say good bye to the Humantay peak as we start to enjoy the views of another higher and mightier mountain, the Salkantay. The temperatures will drop as we climb up to our second campsite at Ichupata. This will be our highest campsite.
Sunday September 27 - Day 3 of Salkantay Trek
14km
Overnight: Campsite, 3,750m/12,300ft
Today's trek will be the most challenging and rewarding hike so far. Our guides will lead us up the Inca Chiriassca pass (an altitude of 5,000m/16,400ft) in a slow and steady pace where we'll be treated with hot coca tea and phenomenal views of the beautiful valleys and lakes. Hopefully sightings of the many condors and falcons will be had as we start our descent. After a delicious lunch in the middle of the Andes, we'll make our way down through lush green valleys to our campsite in a little village of 10 families.
Monday September 28 - Day 4 of Salkantay Trek / Inca Trail
14km
Overnight: Campsite, 3,300m/10,800ft
Today's hike gives us a rare and special glimpse into the past as we hike on the same hillside paths used by traditional Peruvian farmers. We'll pass through famous Inca ruins, stopping to learn about the history and admire the extraordinary. Lunch will be a celebration of sorts as we finally reach the classic Inca Trail and sit down to marvel at one of the most extensive and advanced transportation systems in pre-Columbian South America. In 2014, this road system received the designation as a UNESCO World Heritage Site. The afternoon hike to our campsite will be all uphill with lots of opportunities to take photos of the mountain views, the enchanting waterfalls and the cloud forest.
Tuesday September 29 – Day 5, Inca Trail
16km
Overnight: Campsite, 3,600m/11,800ft (3,300m to 4,200 to 3,600 to 3,950 to 3,600m)
Today is our longest day but considered by many to be the most fascinating thanks to the many Inca Ruins along the way and the interesting hike through the cloud forest. We start the day on an upward climb to the Warmiwanusca Pass (also colourfully known as "Dead Woman's Pass"). We'll stop to enjoy the views before heading down on the rocky trail only to begin a second upward climb after lunch. Hummingbirds and orchids are everywhere as we make our way towards Runkurakay, a round shaped Inca ruin with superb views. After reaching the second pass at 3,950m (12,900ft), we start our descent to our campsite where an abundance of flowers and birds will make this stay truly memorable.
Wednesday September 30 - Day 6, Inca Trail
10km
Overnight: Campsite, 2,600m/8,500ft
An easy day! We'll wake up to a picture-perfect scene of the Andes and the Pumassillo glacial peaks. During our 5 hours of walking today, we'll visit 3 incredible ruins. The first set of ruins is the well-restored Phuyupatamarka site which contains six beautiful ceremonial baths with water running through them. The second set of ruins are nestled in the hillside of many terraces representing what one believes is an Inca agricultural station. Following an incredibly well-engineered flight of many hundreds of Inca steps, we'll make our way to our final campsite, home to the exquisite little Inca ruin of Winay Wayna which is translated as "Forever Young".
Thursday October 1 - Day 7, Sun Gate into Machu Picchu
5km
Machu Picchu (2,430m/7,972ft) and Cusco
The day of TRIUMPH. This exciting day begins before dawn. We'll hike for 2 hours along a winding trail that takes us through a fascinating, cliff-hanging cloud forest before reaching the Sun Gate (Intipunku), the penultimate site on the trail. Following tradition, we'll enjoy our first glimpse of the majestic Machu Picchu while waiting for the sun to rise over the surrounding mountains. Our final triumphant descent to the Citadel will take about an hour. After a tour of this great 15th century Inca Citadel, we'll have time to marvel on our own. For those so inclined, we can hike Huayna Picchu, the towering mountain that sits directly behind Machu Picchu. A 45 minute, 360m (1,000ft) summit to the top, this nontechnical hike is one of the highlights of a visit to Machu Picchu. We'll celebrate over lunch in Aguas Calientes, board a train to Cusco, and finally return to our hotel, a very welcomed site after a very incredible journey.
Friday October 2 - Cusco
Evening departure Cusco at 8:12pm to Lima. A day to relax and tour Cusco.
Saturday, October 3 – Arrival in Toronto
Early morning departure Lima at 2:40am to Toronto. Arrive at 11:55am.
Trip Costs
$4,800 USD + HST.
Price includes all land transportation, accommodation, guides, permits and food (excluding beverages). Please note that the cost does not include airfare to/from Cusco and Insurance (travel & medical).
Reserve Your Spot or Enquire